2022 SCMBA Player of the Year - DJ Kuijer
---
---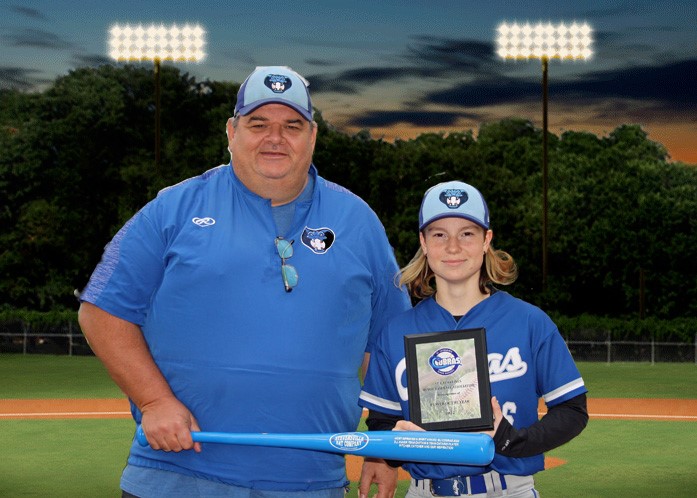 ---
DJ Kuijer has played rep baseball since her 2nd year with St. Catharines Minor Baseball. She started in soccer and made the change to baseball with the encouragement from her Uncle Frank Iker (SCMBA Alumni - Player and Coach). DJ started in mosquito and by her 2nd year was an alternate for the rep team while playing on the select team.
DJ played wherever her coaches requested Outfield, Second Base, Catcher, and both relief and starting pitching.
DJ Captained the 2022 16U Cobra Rep team during their first year in the Inter County Baseball Association. She was the starting Pitcher in Game 2 of the 2022 OBA A division championship playoff series vs Hamilton where she had a very strong outing giving her team a chance to win. She gave her teammates a quality start each time she took the mound. She was also versatile in the field, playing Catcher, Second Base and Right Field.
This year, DJ made one of her goals come true by being a part of the 2022 Girls 16U Ontario Baseball Team. DJ has been training with the Ontario Development team since she was 12. Making the Ontario 16u girls team required 3 open tryouts and 1 invitational tryout. Practices were every Saturday and Sunday 9am to 1pm for the month of August followed by games versus local Toronto Boy Rep teams. This was in addition to her 50 game schedule played with her St. Catharines Rep Team.
DJ along with 13 other girls represented Ontario at the 2022 16U Girls Invitational Championships in Summerside PEI in late August. Team Ontario competed against 10 Provincial Teams from across Canada. In their final game Team Ontario finished 5th overall for the 2022 tournament. Even with DJs role on the team as a bench player, she found herself in every game in critical moments. She hit .500 for the series with a critical sacrifice bunt in a game against Nova Scotia that jump started a 5 run inning. DJ was also able to close out a game against Alberta pitching an Inning without allowing a hit and no earned runs.
DJ will spend this Fall and Winter training for the 22u Ontario Womens team tryouts in the spring of 2023.
On Behalf of the SCMBA Board, Coaches, and Players we are proud to announce DJ Kuijer as the 2022 SCMBA Player of the Year.